Accommodation Vlašić i Travnik Winter Holidays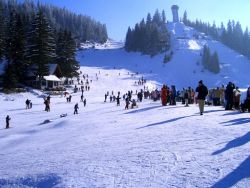 The length of the ski slopes on Vlasic Mountain is 10500 meters. There are 2 light (blue) and 2 medium heavy (cave) ski slopes available.
The ski lift Babanovac I and II is equipped with night-skiing reflectors, organized every Wednesday, Friday and Saturday from 18:30 to 21:30.
Apart from that, there are two baby ski lifts owned by SAX doo company in Vlasic.