Accommodation Divčibare Winter Holidays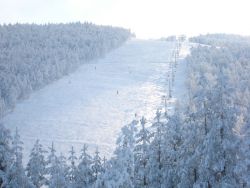 Divcibare may be of interest to parents with small children, beginner skiers, recreational skiers and all nature lovers.
Skiers have several ski trails available. The longest slope (800 m), with ski lift, was made on the northern slope of Crni vrh. The trail is illuminated, so there is the possibility of night skiing.
In hotels, apartments, villas and resorts there is a possibility of renting and servicing ski equipment, during the winter season there is a ski school.