Accommodation Matrei in Osttirol Winter Holidays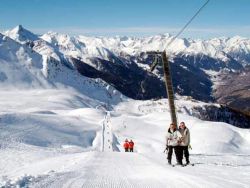 Matrei in Osttirol is a resort in the center of the Hohe Tauern National Park. Here you can enjoy skiing and snowboarding in a relatively peaceful and relaxed atmosphere.
Ski resort Matreier Goldried situated in the center of the village is one of the ski resorts in the Alps where there is almost snow.
If the 55 km of ski slopes are not enough for a true enjoyment of skiing and snowboarding, Matrei is also connected to the Grossglockner Resort Kals-Matrei ski regions (110km of ski slopes) and ski resorts "Top-Ski Eastern Tyrol" (350km of ski slopes).