Accommodation Platak Winter Holidays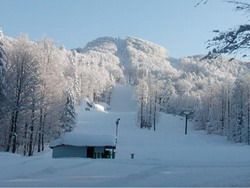 Platak - this little family ski resort is located near Rijeka. From the top of the chair lift (1363 meters) you can enjoy the sea view. Platak offers numerous opportunities for recreation and vacation throughout the year.
In a summer Platak is a place where many mountain lovers spend their time. In just a few hours of walking on the well-kept and marked hiking trails, there are the peaks of Snježnik and Risnjak, with beautiful views. Makadamske Roads are great for mountain biking or easy walkings in nature.