Ski Resort Bjelolasica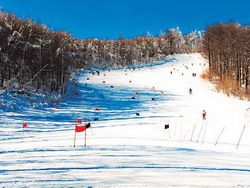 Ski resort Bjelolasica - an ideal place for vacation, skiing, snowboarding and sports throughout the year in the beautiful natural surroundings of Gorski Kotar.
If this winter you choose for your vacation Croatian Olympic Center, Bjelolasica, you made ​​a good choice. It offers skiing, cross country skiing, sledding, pleasant walks, a variety of programs, and apartments, hotels, restaurants with affordable prices.
Bjelolasica is the largest Ski resort in Croatia. To all who visit this ski resort there is a program for initial, advanced and specialized learning of skiing and snow-boarding.
Bjelolasica activities
If you are looking for action Bjelolasica offers white river rafting, mountain biking on forest trails or hiking, horseback riding and hunting.
To all lovers of white water rivers we recommend to visit Bjelolasica, Croatian Olympic Centre. Rafting or modern floating in inflatable boats - will take you to an unforgettable adventure on the rivers Dobra, Mrežnica and Kupa, pearls of Gorski Kotar. Those who are not so brave may enjoy driving in canoe on peaceful courses of these rivers and in the Sabljaci Lake, popularly called the Ogulin Sea.
Hikers can always find a variety of activities and peaks, one of the most beautiful experiences is to visit, Kula, the highest peak in Gorski Kotar and Samarske and Bijele Stijene (Rocks), protected nature reserves.
Fans of medicinal plants will always be delighted by a variety of medicinal plants.
Sportsmen have miles of roads, which offer an inexhaustible source of pleasure for the mountain bike rides. Start an adventure and discover Bjelolasica on a bike.
There are also attractive trails and roads adapted to all ages. Visit Bjelolasica and step into a labyrinth of beautiful afforested paths during spring, summer or fall.