Ski Resort Platak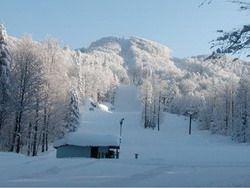 Ski resort Platak - this small family ski resort is located near Rijeka. From the top of ski lift (1363 meters) you can enjoy the sea view. Platak offers many opportunities for recreation and relaxation throughout the year.
If this winter you choose for your ski vacation Platak accommodation can be found in one of two mountain lodges, lodges are open during the whole year, prices are affordable.
Ski Resort Platak, except skiing offers other types of winter fun. Trails for the motor sledging is located in the valley Pribenis, about 1 km in length. Ski equipment can be rented on the spot. Traditionally on Tuesdays and Fridays between 19:00 and 22:00 hours you can enjoy night skiing on perfectly sunlit path Radeševo ​​1, and on the part of trail known as Zavoj 19.
If you want to ski, snowboarding or just walking visit Platak. Try out skiing and snowboarding alone or with a ski teachers. Recently decorated two trails for sledding, 150 meters long, where you will descend Snow-tubing.
Platak attracts lovers of the mountains in summer. In just a few hours walk maintained and marked hiking trails, there are Snjeznik and Risnjak peaks with breathtaking lookouts. Roads in Platak are perfect for mountain biking or a leisurely walk in nature, and lodges are open during the whole year.