Ski Resort Mukinje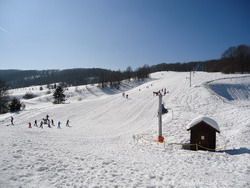 Ski-slopes Mukinje - located within the Plitvice Lakes National Park and is just 800 meters from the central zone of the National Park.
Mukinje offers 3 ski slopes with total length of 1 km.
In the ski center you can rent ski equipment and sets, and after enjoying the day or night skiing and sledging on natural snow, look for accommodation in one of the many villas, hotels and apartments on offer.
If this winter you choose for your vacation Mukinje and Plitvice lakes, you made ​​a good choice. It offersskiing, night skiing, pleasant walks, and numerous apartments, hotels, restaurants with affordable prices.
Enjoy the winter idyll of Plitvice Lakes National Park and enjoy the beauty of the Lower Lakes or electric boat driving, the mobility of the Lower Lakes route is secured throughout the year.
Each season brings its own magic and therefore the winter also. Thick woods covered with snow together with the blue or green water gives everything a magical appearance.