Ski Resort Bela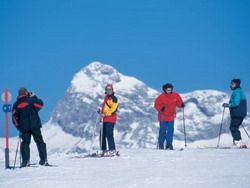 Rog Crmosnjice - SC Bela ski resort is located in the southern part of Slovenia, close to Novo Mesto and Semič.
This ski resort holds FIS giant slalom races for women.
The ski resort has 6 ski lifts, of which one is a three-seat chair and there are also 5 ski lifts. Ski equipment rental is available on the ski slopes.
Have you visited this ski resort yet?
If so, share your experiences with others. Write your suggestion where to go, what to visit, where you can dine well and favorably