Ski Resort Kobla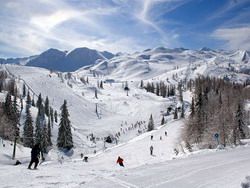 Kobla ski resort is located beside the small village of Bohinjska Bistrica, offering wide, well-decorated and long ski slopes mostly popular among beginner skiers and families with children.
For the more advanced skiers there is the upper red line that is fast and steep. Lower wide trails are a paradise for beginners and children who want to enjoy skiing.
At night there are illuminated ski paths for beginners so children and beginners can feel the magic of night skiing. Most of the ski slopes are stocked with snow cannons. After skiing, you can relax in the spa and wellness centers in the nearby village.
Have you visited this ski resort yet?
If so, share your experiences with others. Write your suggestion where to go, what to visit, where you can dine well and favorably