Ski Resort Vogel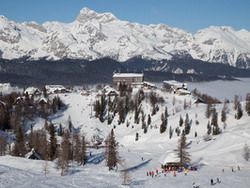 Above Bohinj Lake, in the magnificent natural surroundings, there is a ski resort Vogel, where we can ski in the natural snow by the middle of April. Skiing track can be reached exclusively by a cable car that has capacity for 50 people. This ski resort is recommended for skiers who, besides skiing on the beautifully landscaped paths, are looking for a beautiful view and plenty of sunshine. Despite the unique location, the ski slopes are not too demanding, so beginners and children can enjoy skiing. At the ski resort, from beginners to advanced skiers, everyone will find suitable slopes. If the snow conditions are good we can enjoy the 8km long downhill on the red trail to the valley.
Vogel is also the first mountain obstacle above the Adriatic Sea, which is why it is exposed to frequent high snowfalls during winter. An exceptionally high-altitude ambience and a fantastic view of the surroundings during sunny days will leave you breathless. The ski resort is located in the Triglav National Park above Bohinj Lake, ideal for all ages.
In the cold winter months, there are many other recreational and sporting activities available for visitors, such as: sledding on the frozen Bohinj Lake, ice climbing, cross-country skiing, winter horse riding.