Ski Resort Rogla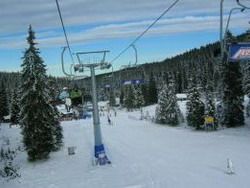 A paradise for families with children's, well equipped ski slopes, ski resort Rogla. Snow cannons and the specific climate guarantee 100 days of skiing, winter sports. At the top of the mountain there are many ski hotels and apartments.
Rogla is one of the best-equipped sports centers in Slovenia, many athletes use this Olympic Center.
At the foot of the ski area is situated town Zreče, one of the most famous spas and wellness centers in Central Europe. Here you will find plenty of swimming pools, saunas and special recreation programs. You can also find many hotels and apartments in this area. Ski bus transports guests between Zreče and Rogla.
Rogla except skiing offers a variety of tours-walks, covered sports centers and excellent restaurants with a rich and varied selection of drinks and food, where guests can relax after a busy day.
Have you visited this ski resort yet?
If so, share your experiences with others. Write your suggestion where to go, what to visit, where you can dine well and favorably