Ski Resort Krvavec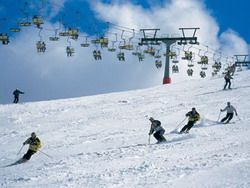 Krvavec is one of the best Slovenian ski resorts, located near Ljubljana in the heart of Slovenia. Due to excellent skiing trails both for skiing and snowboarding this ski resort is a of the most populars ski resort in Slovenia.
Due to its high altitude on the ski slopes, it always has snow and is well equipped with snow cannons. Trails are reached by cable cars. Because of the ski slopes there is little accommodation on the trail itself.
Free parking is available to guests in the valley from where there is a free bus service to the ski lifts. There is a special snowboarding trail on the mountain.
Have you visited this ski resort yet?
If so, share your experiences with others. Write your suggestion where to go, what to visit, where you can dine well and favorably