Accommodation Bovec Winter Holidays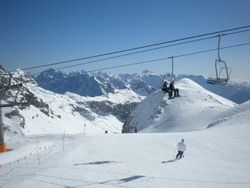 Bovec is a small charming Alpine town surrounded by the massive Julian Alps, just across the border with Italy and 30 kilometers from the border with Austria. Bovec is the highest ski resort in Slovenia, the only ski resort where you lift up to 2000 meters high. In 2009, ski resorts Bovec and Sella Nevea ski resorts in Italy were linked, so with one ticket you can enjoy skiing in two countries. Excellent conditions on ski resorts for professional skiers, for beginners and for lovers of snowboarding. For sledding fans there are 9 kilometers of sledding tracks.
If you are looking for peace for your soul and body, you will find it in Bovec. Bovec offers you everything you want: great conditions for skiing, preserved and wild nature, mountains, rivers, a gentle and unique combination of Alpine and Mediterranean climate, centuries-old tradition.