Accommodation Mozirje Winter Holidays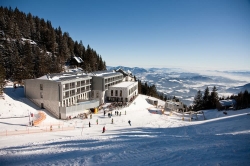 The ski resort Golte is located above Mozirje, with a wonderful view of the Savinjska valley, the Savinja Alps and the Eastern Karavanka.
Mozirje (Golte) is more and more popular every year in the circle of skiers that craves for smaller romantic ski resorts with beautifully landscaped paths surrounded by beautiful nature.
The tracks are wide, especially favorable for beginners and less experienced skiers who want to taste snowy pleasures at affordable prices.